Quality Management in INFRAFRONTIER
Quality management enables organisations to deliver consistent results that meet user expectations. A central tenet is the constant improvement of processes. In INFRAFRONTIER, quality management provides us with the tools to fulfill our mission to deliver high quality services and to advance animal research in accordance with the 3Rs.

The INFRAFRONTIER Quality Management Framework
Quality management (QM) enables organisations to deliver consistent results that meet user expectations and legal requirements according to established standards. A central tenet of quality management is the continuous improvement of operational and administrative procedures in an iterative process of comparing achievements with expected results and adjusting procedures as needed.
In the research environment, quality management can help improve the reliability and reproducibility of scientific results. At INFRAFRONTIER, quality management gives us the tools to fulfil our mission of providing the scientific community with a platform of high quality services while advancing animal research according to the 3Rs (Replacement, Reduction, Refinement). It ensures continuous improvement in the quality of our research services and animal stewardship.
As INFRAFRONTIER is a consortium of many research institutions from different countries and therefore individual requirements may vary, the development of the INFRAFRONTIER Quality Management Framework is the result of a continuous exchange between all INFRAFRONTIER institutions. This is ensured by our QM Network Group, a group composed of dedicated QM representatives from the different partner institutions.
We use a three-tiered approach to describe our QM framework. Common INFRAFRONTIER-wide quality principles for each of our main services, which define key internal quality standards, are accompanied by common, service-specific operational standards that ensure reproducibility and consistency of services across the partner organisations. At the same time, they guarantee compliance with local requirements.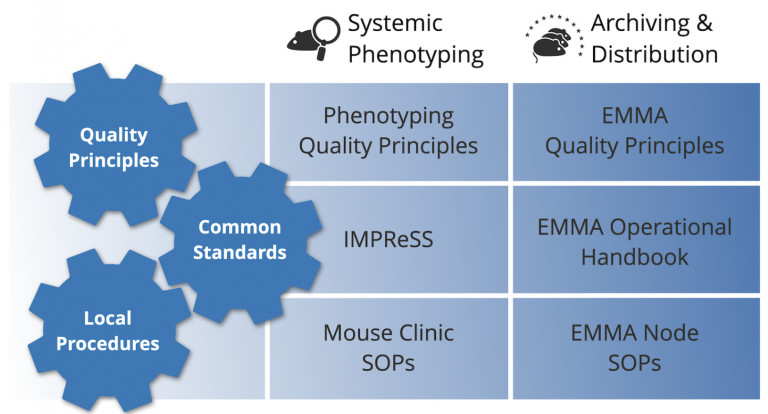 Further reading
The INFRAFRONTIER Quality Principles for Systemic Phenotyping of genetically modified mouse models describe 11 key principles, ranging from general requirements for compliance with animal testing guidelines and the need for well-trained personnel to more specific standards such as the exchange of reference lines or the provision of FAIR (Findable, Accessible, Interoperable, Reusable) data.
IMPReSS (International Mouse Phenotyping Resource of Standardised Screens), contains standardised phenotyping protocols which are essential for the characterisation of mouse phenotypes. IMPReSS contains definitions of the phenotyping pipelines, mandatory and optional procedures including and data collected by the International Mouse Phenotyping Consortium (IMPC). This allows data to be comparable and shareable, while ontological annotations permit interspecies comparison which may help in the identification of phenotypic mouse-models of human diseases.