METTL5 – a new human RNA methyltransferase that is involved in human diseases
September 8, 2020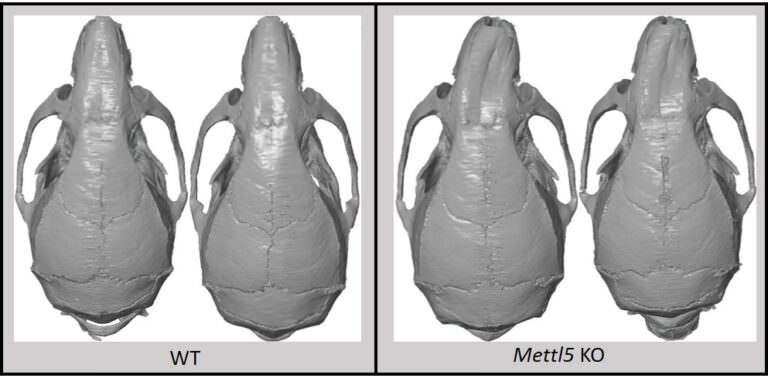 An international team of researchers lead by Helmholtz Zentrum München uncovered the molecular mechanisms that link rRNA methylation to development and disease. The study was published in "Genes & Development".
The scientists involved in this study screened METTL proteins family members for RNA methyltransferase activity and showed that METTL5 is novel m6A-methyltransferase that methylates 18S rRNA. They could show that METTL5 is required for efficient translation and has a profound impact on cell function and pluripotency. The generation of a Mettl5 KO mouse model and systemic phenotyping of Mettl5 KO mice support the importance of METTL5 for development. Strikingly, the loss of the m6A methyltransferase Mettl5 in mice reflects behavioral phenotypes and malformations of the skull also observed in human patients with METTL5 linked mutations.
Click here to find a longer version
Valentina V. Ignatova, Paul Stolz, Steffen Kaiser, Tobias H. Gustafsson, Palma Rico Lastres, Adrián Sanz-Moreno, Yi-Li Cho, Oana V. Amarie, Antonio Aguilar-Pimentel, Tanja Klein-Rodewald, Julia Calzada-Wack, Lore Becker, Susan Marschall, Markus Kraiger, Lillian Garrett, Claudia Seisenberger, Sabine M. Hölter, Kayla Borland, Erik Van De Logt, Pascal W.T.C. Jansen, Marijke P. Baltissen, Magdalena Valenta, Michiel Vermeulen, Wolfgang Wurst, Valerie Gailus-Durner, Helmut Fuchs, Martin Hrabe de Angelis, Oliver J. Rando, Stefanie M. Kellner, Sebastian Bultmann, and Robert Schneider.
The rRNA m6A methyltransferase METTL5 is involved in pluripotency and developmental programs. Genes Dev. 2020;34(9-10):715-729. doi:10.1101/gad.333369.119